Steve's Home Poker Blog
> Nickle Poker Chips
I added some nickles to my cash game set: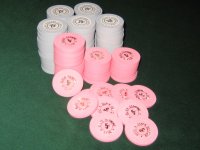 I got pink nickles for the girls (not that there's anything wrong with pink). When we play couples poker the games are REALLY cheap - usually $5 or $10 buy ins. Anyways I wanted to get something pretty for the girls to look at :)




Add Comment:

Please Login to add a comment.

New to Home Poker Tour? Register HERE!
Do you want to advertise here for $100/month for a minimum of 3 months? If not, don't bother contacting HPT about advertising. Have a nice day!